Submission Instruction
Submitted articles should report original, previously unpublished research results, experimental or theoretical. Articles submitted to the Conference should meet these criteria and must not be under consideration for publication elsewhere. Manuscripts should follow the style of the Conference and are subject to both review and editing.
Full Paper
You can publish the manuscript and deliver paper presentation on ICEFR 2021, orally or poster presentation. You must submit Full-length Manuscript for review before the submission deadline.
Abstract
If you don't have publication purpose, please submit an abstract. You can deliver a presentation on ICEFR 2021, but the presented manuscript WILL NOT be published.
Listener
If you don't want to submit any articles, please just register as listener. You can participate and attend all the presentation sessions only, neither making presentation nor having paper published.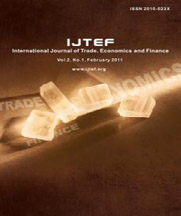 Publication
International Journal of Trade, Economics and Finance (IJTEF, ISSN: 2010-023X, DOI: 10.18178/IJTEF), and will be included in Engineering & Technology Digital Library, ProQuest, Crossref, Electronic Journals Library, EBSCO, and Ulrich's Periodicals Directory. International Journal of Trade, Economics and Finance (IJTEF) is an international academic open access journal which gains a foothold in Singapore, Asia and opens to the world. It aims to promote the integration of Trade, Economics and Finance. The focus is to publish papers on state-of-the-art Trade, Economics and Finance. Submitted papers will be reviewed by technical committees of the Journal and Association. The audience includes researchers, managers and operators for innovation, management and technology as well as designers and developers.
Submission Deadline: February 15, 2021
Notification Deadline: March 10, 2021
Registration Deadline: March 31, 2021
Conference Dates: April 28-30, 2021
---